We're having an exciting TPS book week at Morgenstern's Books & Café, December 13-18!
20% of all purchases made in the name of TPS will be directed toward a fund for new books for our classroom libraries. And when our teachers then shop in the new year, they will receive an additional 20% off their classroom selections. Your book buying in December will therefore equal close to 40% off new finds for our class libraries come January! Mark your calendars for a wonderful way to round out your holiday shopping... or just grab a new book you've been eager to read yourself! Our tremendous thanks to Morgenstern's for this visionary generosity. We love books, and we adore local book stores!
SPECIAL BOOK EVENT DURING OUR BOOK WEEK:
On Wednesday evening, December 15, from 5:30-6:30p, stop by the bookstore for a Book Signing, Reading and Monster Drawing with local graphic author, Rob Harrell! Celebrate the release of his latest hilarious graphic novel, BATPIG: WHEN PIGS FLY! Featuring an unstoppable, super-swine hero. "Harrell's full-color graphic-novel charmer is over-the-top fun!" (Kirkus, starred review)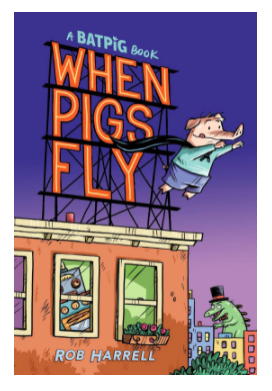 Rob is the author/illustrator of Wink, created the Life of Zarf series, the graphic novel Monster on the Hill, and writes and draws the long-running daily comic strip Adam@Home.