Current Safety Protocols – Last Updated: September 26, 2023
The best protection from severe illness and hospitalization from COVID-19 continues to be vaccination and any applicable booster. If you haven't yet, please have your child vaccinated/boosted.
We encourage daily monitoring of your child's general health and wellness, and specifically in terms of possible presenting COVID symptoms. We recommend use of a daily wellness checklist that can be used prior to heading to school, to check on the general wellness of your child, as well as to look for any specific COVID symptoms.
As with all illnesses, we ask that you keep your child at home when they are exhibiting illness symptoms, including a fever, and that you notify the school of the absence and symptoms via our absence notification form.


Dashboard
In order to keep our school families and the larger community informed about positive COVID cases within our school, we have created a dashboard through which we post up-to-date information regarding the number of positively diagnosed cases, contacts, classrooms impacted, and communications sent. Please note that there is a tab for academic year 2023-2024, and also archive tabs for previous years.

Click here for our COVID Dashboard.


Masking
Mask wearing by students, staff, and all guests is currently optional at TPS except in three instances when masking will be required:
days 6-10 after a positive diagnosis when a student has returned to school following their 5-day isolation period;
days 1-10 when another member of a student's household has received a positive diagnosis;
if there is an outbreak within a classroom (number of cases to be determined on a case-by-case basis).
If there would be any significant outbreak of COVID cases at TPS or in the community that warrants transitioning to a school-wide mask-required protocol, we will send out a communication.
When needed, TPS can provide masks, as long as supplies are available.

Positive COVID Diagnoses of Students or Staff
If your child receives a positive diagnosis, your family should contact the school as soon as possible to report the following: (1) the positive result, (2) the first day of symptoms, and (3) the day the individual was tested.
A positive individual may return day six (6) or later IF they:
can mask effectively indoors (effectiveness interpreted by staff discretion); AND
have improving COVID symptoms; AND
are fever-free without the use of fever-reducing medications for at least 24 hours; AND
agree to mask at all times indoors except while eating, and agree to eat in an accommodated space that creates distance from others until day 11.
The count day for a positive diagnosis begins on the first full day after the onset of symptoms or the first full day after the positive test result, whichever came first. You can click to calculate your child's return date, based on the first day of symptoms or the positive test date.
Testing will not be required for an individual to return to school following isolation.

Other Positive Cases in Households
If there is a positive individual in the household other than your child, your child may return to school immediately as long as they are symptom-free. We ask that your child remain home if they are exhibiting any illness symptoms, and we encourage you to have them tested. If the individual with the positive diagnosis is unable to mask around other household members, or remain isolated, we encourage your child to mask at school until day 11.

Testing
We may be able to assist with rapid testing if we have permission to test your child at TPS (via our Rapid Test Permission Form), if we have additional test kits available, and if your child is any of the following:
symptomatic.
a close contact who struggles to mask.
returning from a home where there has been someone determined positive for COVID.
In some situations, your child may need a COVID test to be in class if they have COVID-like symptoms. The Project School cannot promise that the testing can take place on-site due to current supplies, and therefore families may have to pursue other options (home testing, local provider, clinic, etc.) before their child may return to class. These situations will be dealt with on a case-by-case basis.


Communications
Beginning with the 2023-2024 academic year, TPS will no longer send individual COVID communications when a student is diagnosed as positive either at home or at school. Families with a positive diagnosis will be responsible for calculating the return date for their child in partnership with the school (see above calculation instructions). TPS will communicate verbally with families to confirm all information.
Classroom families will receive a notification letter whenever there is a positive case within their classroom, although the name of the positive person will not be revealed. TPS no longer performs contact tracing, and so no close contact letters will be sent.
Positive TPS cases – both students and staff – will continue to be posted to our COVID Dashboard if the individual diagnosed had been present at school during days when they could have been contagious prior to the diagnosis. If an individual has been absent from the school for more days than they may have been contagious (based on current CDC guidance), they will not be added to the dashboard.


Conjunctivitis

Pink Eye (Conjunctivitis) has been determined to be a symptom of the most current strain of COVID-19. If your child has suspected Pink Eye – even without any other accompanying illness symptoms – we ask that in addition to seeking medical attention for the Conjunctivitis (which itself is highly contagious), that you also test your child for COVID-19.

If your child is positive for Conjunctivitis but negative for COVID-19, they may return to school based on the determination of your child's medical professional, regarding when the Conjunctivitis is no longer contagious (typically, this is considered to be when the eyes are no longer red and oozy, and/or at least 24 hours after eye medication has begun. However, the doctor must make this determination). If your child is found to have COVID-19, they must follow the above return-to-school protocols.

Possible Future Protocol Changes
Changes to these protocols may take place at any time based on shifting COVID data and/or Indiana Department of Health or Monroe County Health Department guidance. Changes to these protocols will be shared with families as quickly as possible via email.

_______________________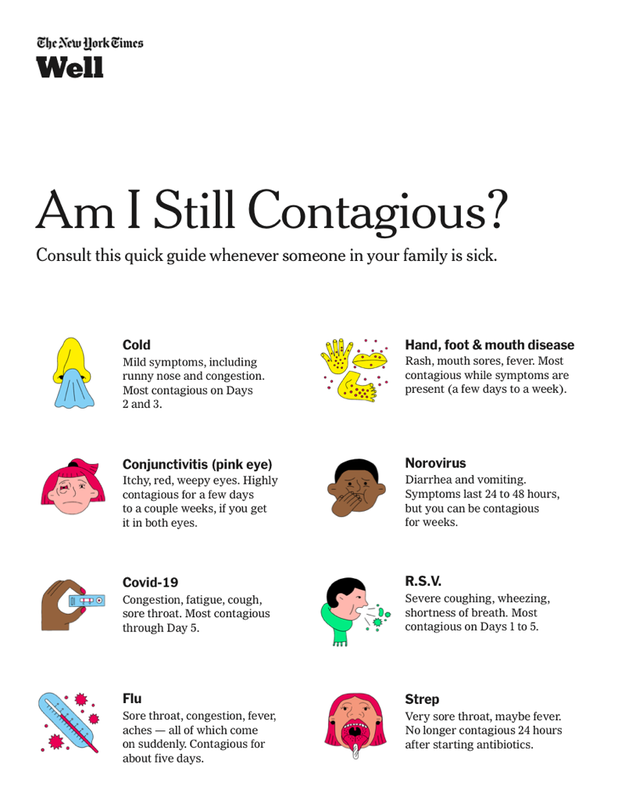 _______________________


Previous Re-Entry Plans
Click here for our COVID Re-Entry Plan 2021-2022
Click here for our COVID Re-Entry Plan 2022-2023